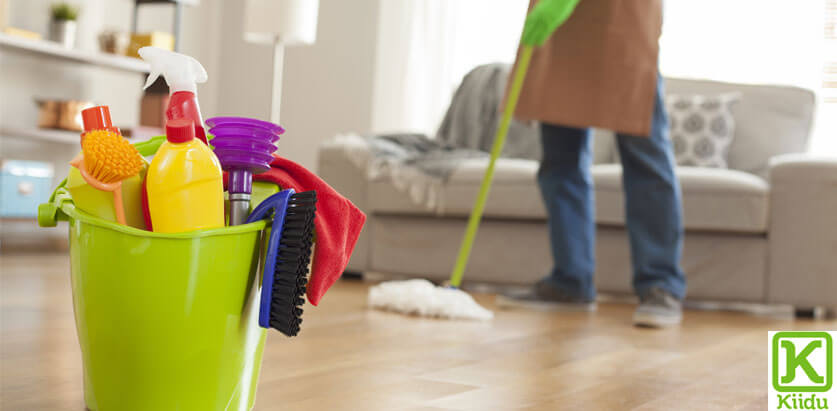 At Kiidu, we know that our one-time housecleaning service is a convenient bargain for customers. There are a variety of reasons why customers choose this option. To begin with, making a one-time cleaning appointment gives customers a chance to touch up any areas they might have missed on their own. Some of our customers choose a one-time cleaning appointment as part of an annual spring cleaning event, and yet others opt for this service before important events like family visits or dinner parties.
There are two main types of one-time housecleaning service: deep cleaning and move-in or move-out cleaning. The first type, deep cleaning, is just as the name implies. It's an incredibly thorough and detailed cleaning appointment. Many of our customers choose this option when they clean on their own regularly but don't have enough time to spend all day cleaning every small space and surface.
Move-in and move-out cleaning may sound unnecessary, but don't underestimate the value of your time. We know how stressful it can be to move whether it's across the city, across the country, or even across the world! There are so many things that have to be done before and after moving, everything from taking care of the utilities to packing. One way to relieve some of the stress of moving is to allow the top maid cleaning services like Kiidu handle all of your cleaning needs.

When looking for a maid agency in Bangkok, one of the most important things to understand is what services are included with one-time housecleaning appointments. It's crucial to find a maid for cleaning houses that will address all of your concerns so that you can walk away feeling confident and ready to tackle other challenges.
Tired of cleaning? Use Kiidu Today.
There's a famous saying in the art world: "I don't know much about art, but I know what I like." This saying absolutely applies to maid services in Bangkok, too! In some cases, our clients aren't sure what services they even want performed until everything is laid out in front of them. This is something we're more than happy to do with all of our customers. One of our top priorities is to be as transparent and flexible as possible.

First, bathroom cleaning is critical especially if visitors are expected in the near future. To put it bluntly, no one notices a clean bathroom, but everyone notices a dirty bathroom. Also, visitors might never see your balcony or kitchen, but they will invariably see your bathroom at some point. Our one-time housecleaning service will get rid of any mold or hard water stains on your shower door and walls. We will also scrub tiles and grout until they're looking new. The final step for bathroom cleaning is to wash down all the surfaces to remove streaks and fingerprints.

Kitchen cleaning is important because this is the place where food is prepared for you and your family. Disinfectants should be used to kill any germs, and a good cleaning product will leave your appliances looking shiny and like new. Maids will take out the trash and make sure there aren't any lingering odors, and they will wipe down countertops and stoves. Maid services will also include sweeping and mopping to get rid of dirt, hair, and germs.

Bedrooms are where we sleep and spend about a third of our lives, and there's nothing better than sleeping in a freshly cleaned bedroom with changed linens. Vacuuming will leave the room looking spotless and will remove dirt and pet hair. Maids will also dust air vents, air conditioners, lamps, and any open surfaces.

Living rooms are the rooms where guests are likely to spend the most time, so our maids will make the room look like the day you moved in. Services include vacuuming upholstery to remove dust and dirt, vacuuming the carpet, dusting air conditioners, and wiping down electronics like the television and stereo.

Our maids will finish by cleaning other areas like balconies, hallways, and staircases. This includes vacuuming the carpet, wiping away any handprints on the walls, and wiping down bannisters. Maids will also wipe down the ceiling and floor fans throughout the apartment and remove any dirt or grime from doors and doorframes.

A good maid service in Bangkok is one that will clean all the areas of your house thoroughly and leave you feeling stress free. Let Kiidu's maids help take the burden of cleaning off your hands!
READY TO GET THE PERFECT MAID OR NANNY?
Hire a maid all over Thailand today!

Contact: +66 25 506 038
Website: https://kiidu.com/
Facebook: https://www.facebook.com/kiiduofficial/