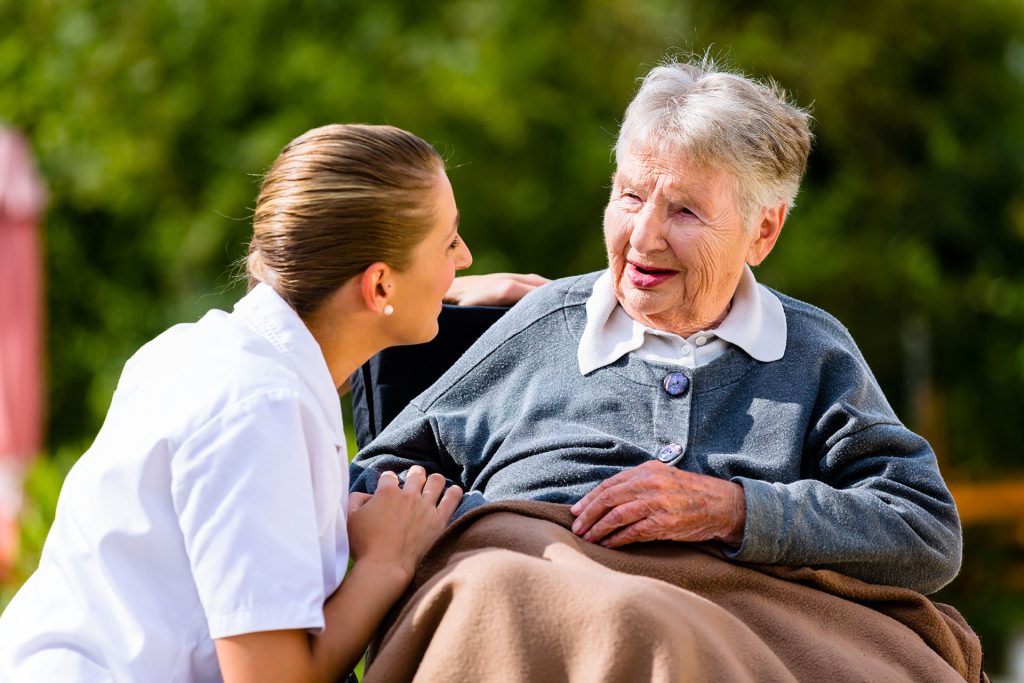 If you or a loved one is starting to struggle with day-to-day living, perhaps as a result of old age or a disability, it may be time to consider employing the services of a professional caregiver. One of the most frequent concerns that we hear from family members is the levels of guilt that they feel because they don't have the necessary time or skills take care of someone properly. It may be that you work; the level of care required is far more than you are capable of or it could be putting too much of strain on your normal family life.
If some of these things resonate with you, then you really should think about employing a caregiver in Bangkok. Choosing to hire a caregiver is not failing on your part; it is an appreciation that someone else, a professional, could do a better job. A caregiver can look after the wellbeing of a loved one, perhaps coming a few times a week, visiting every day or, in some cases, being a live-in caregiver. The chances are if you are reading this article, you already exploring the options available and have decided that the time has come to get some extra help.
Of course, if you have come to this conclusion, then you want to ensure that you get the right person not only for the individual receiving the care but also for you are your family. Here is our guide to employing the right caregiver.
1. Know precisely what you want
A course, a crucial factor in deciding whether you should hire a caregiver is knowing exactly what you want and require. What tasks will they be expected to perform, how often should they visit, do they need to live with you? Then you need to consider if this something that they would be capable of and if your requirements are reasonable. When deciding to employ a caregiver, you want to make sure that everyone is better off, if they aren't, especially the person receiving the care, you may want to explore other options.
2. Be flexible and open to suggestions
You should be flexible with the options and alternatives that are available. If you are using an introducer such as Kiidu, we will be able to explain what would be best in your circumstances, remember, everyone is different. Being inflexible is unlikely to result in the best levels of care and if you have no previous experience of this type of thing, seeking professional advice is, of course, very wise.
Pay will always be a factor, and you want to make sure that you get the best individual. It may mean that you need to pay a little more, but conversely, you should not offer more than you can afford. You will be looking to build a long-term relationship as stability is always best in these circumstances. As with all aspects of the decision, you need to be honest with yourself as well as others.
3. Make sure everything is legal
Of course, it is possible to get a carer that will accept being paid cash that isn't declared or not offering the benefits that they are legally entitled. However, this is a precarious business and something that you should avoid. The pitfalls of falling foul of the authorities are significant and could leave you wide open to paying penalties in the future. A disgruntled caregiver could easily report you causing you financial and emotional hardship at a time when you need it the least. Here at Kiidu, we will be able to advise you regarding all your legal responsibilities.
4. Conduct interviews and have a trial period
It can't be stressed enough how important it is to get the right person. You should conduct several interviews and not rush into any decision. Indeed, if no one seems suitable, it may mean that a caregiver is not the answer for you. Alternatively, you may be being too demanding and as we established flexibility is essential.
After you have chosen the person you believe to be the best choice for you and your family, you should initially employ them on a trial basis. There are several reasons for this, not least that it will confirm in your own mind that you are following the best path to suit everyone. Also, it will allow you to see them at work, how they integrate with your family, and if the levels of care received are matching your expectations. The trial should be long enough to be able to make an accurate judgement, but not too long as to be unfair or create uncertainty.
5. Ask questions that you want answers to but give opportunities for questions to be asked of you too
There will be lots of things that you will want to know about the person who will be entering your home and providing care. It is therefore essential that you ask all the questions that you want answering. Don't be shy to ask questions that you feel you should know the answer to but don't. You will inevitably want to know about their experience and if your family member has dementia or incontinence, is this something that they have dealt with before and are they comfortable with this.
Of course, the interviewee will have questions of their own so give them plenty of opportunities to ask them. It may help you gain more understanding of their character so let them talk openly and freely.
6. Always ask for references
Before you do decide to employ someone or give them a trial, you should ask for, and follow up on references. Again, this will allow you to reassess whether you wish to employ a caregiver as well as increasing your chances of getting the right person. Naturally, getting glowing references does not mean that the person is perfect for you, but it will increase the chances.
7. Contracts
Finally, if you have decided that you should employ a caregiver and you have made your choice, you should always get a professional contract drawn up. Tied in with point #3, this will make sure that everyone knows what is expected from them and will help to build a more harmonious, professional and long-lasting relationship.