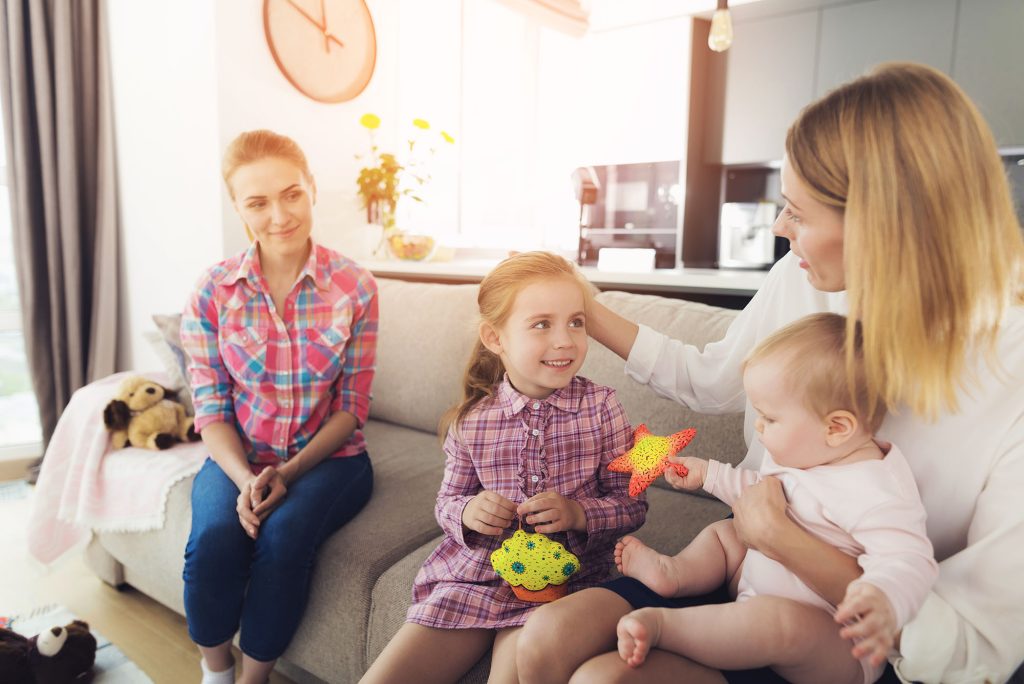 We all lead increasingly hectic lives. It might be due to work commitments, commitments in our social lives or the need to care for other family members, whatever the reason, most of us crave more time. If you have young children, your time will be even more of a premium with parents often feeling guilty that they don't have enough "quality" time with their children due to their other commitments. Sometimes this may mean that the child suffers, sometimes they don't, but the guilt is still there.
For many people, hiring a nanny is the perfect option. It gives you more time to do the things that you need to do and guarantees that your child's basic needs are cared for. It will, therefore, allow you to spend that all-important "quality" time with them when you are free from stress. Having someone who can help you with more menial but nevertheless, time-consuming tasks will bring massive benefits to many aspects of your life. Here are ten benefits of employing a nanny.
1. It gives you more time
Indeed, the main reason why parents hire a nanny is that it gives them more time to complete their other tasks. It can take away the rush, meaning that things completed more efficiently effectively while significantly reducing your levels of stress.
One very time-consuming jobs that all parents will be familiar with is getting children ready in the morning. Getting them up, showered, clothed as well as preparing and giving them breakfast can take up a significant amount of time, especially if they are in a less than cooperative mood! A nanny can do this on your behalf, making things a whole lot easier.
2. Your child gets proper childcare in your own home
Taking your child to a babysitter or even in another family member in Bangkok can be more challenging than you would imagine. The heavy congestion means that even travelling short distances can take quite literally hours. A nanny will deliver care in your own home, an environment that your child will be familiar with as well as somewhere that is far more convenient for you. It is something that will again relieve some of your levels of stress and give you more time.
3. Your nanny will dedicate all her attention to your child
All children demand attention, and by employing a nanny, she will be able to focus all her attention on your child or children. It is something that you don't have the luxury of being able to do and the same is the case with taking your child to a care centre that will look after a number of children each day. The attention that they receive will help their development, and the one-on-one care will help your nanny and child build a positive relationship.
You could ask your nanny to keep a diary of what they do each day so that you can discuss it with your child as well as knowing what is happening in their upbringing.
4. Nannies are flexible
Childcare centre or playgroups tend to be very structured, they need to be, but this allows for very little flexibility from a parents point of view. If you are running late to pick up your child, this can cause a number of problems, with the most positive being that you may incur late fees. A nanny will be far more flexible and adaptable as she is working for you. The same could be said if ever you need her to work at a weekend, the chances are given enough notice, it will be something that she can do.
5. If you use an "introducer", you will have backup options
If you use a company that specialises in introducing nannies and parents there is a good chance that you will be able to get a last-minute backup or replacement should your nanny be ill or need some time off. We often have access to nannies that we can call at short notice that acts as a quick fix and get you out what could have been otherwise a very tricky situation. After all, even nannies get sick, and they are entitled to time off!
6. You will know your nanny's background and qualifications
When you send your child to childcare or a playgroup, do you really know the experience or qualifications of the teams? The chances are that you assume they are qualified but don't actually know. When you employ a nanny, you will, or at least should have, conducted some background checks. Here at Kiidu, this is something that we do on your behalf, giving you that added peace of mind safe in the knowledge that you children are in the best possible hands.
Your nanny will no doubt take your child out during the daytime, perhaps to the park, perhaps for a coffee or even somewhere they can play. It is a time when your child is likely to get the opportunity to interact with other children and develop their social skills. Mothers and other nannies tend to flock to the same places, so friendships will start to form – something that is important in your child's development.
8. More affordable than you think!
If you come from the west, you will be aware that nannies or au pairs are expensive. However, here in Bangkok, they are certainly far more affordable and often compare relatively favourably with even childcare centres and playgroups when you consider the hourly rates. It will mean that you don't have to be too frugal and can choose how often you have a nanny based on the benefits rather than worrying excessively about the cost.
9. They take care of household tasks too!
Although the role of your nanny is not to clean up after you, they will clean up after themselves and your child meaning that, at worst; your home will be no worse state than when you left! It is something that will undoubtedly make your life easier with some nannies, even going that extra step by helping to prepare meals for parents when they come home.
10. Introducers can take care of the paperwork
Although not a benefit of hiring a nanny in itself, if you use an introducer to source a nanny for you, they will arrange all the necessary paperwork such as contracts and any other legalities, ensuring that everything is above board and correct. It is something that will again take a lot of pressure off you and make your life more comfortable in the long-term.